Darfur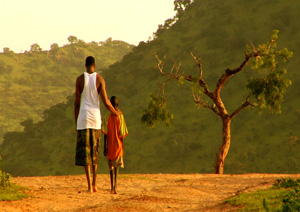 Earlier this year I decided that I wanted to do something different with my life and my foundation. Everything has been going great for me. I am proud of my career, I married the girl of my dreams and I have 2 healthy kids with one more on the way. My foundation has been very successful in helping a lot of people, but I knew there was one thing that I needed to do: I needed to go to Africa, specifically Darfur. I wanted to see what was happening there. Why were so many dying? What is the genocide all about? Who were the faces behind the statistics? I didn't want to stand by and watch it all on CNN. I needed to see it for myself.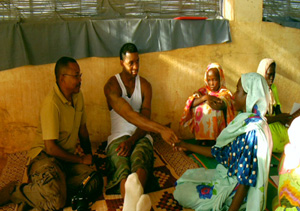 I came up with the idea to go to the refugee camps and hear the stories, and then bring them back. I know that many fans and people around the world might not be aware of Darfur, and the crisis happening there. It wasn't that long ago that I wasn't sure about what Darfur was, where it was, and why terrible things were happening there. So I figured if I didn't know, I could learn, and bring back the stories to other people who also didn't know. I thought maybe together we could make a difference. So, I decided to make a documentary; Something that my fans can see and that might inspire them to help. Once you know what is happening over there, you'll understand and will want to make a difference.
I joined forces with Participant Productions, The Enough Project , and the NBA in an effort to educate people on what is happening in Chad and Darfur.
I can't wait for to you see the film, hear their stories, and know how easy it is to help. These are our brothers, our sisters, our children. They are in need' and what if, just what if, we all do a small part to help. All those little things can help the people, and might help end this genocide.
Sister School Initiative
When I was in Goz Beida (a southern part of eastern Chad), I met a group of young kids about 15-18 years old. They have been living in a refugee camp for about 4 years and wish they could go home. While they are away from home, however, they still need to be educated. They have a great desire to learn, but have no schools to go to, and no way to get an education. I had to do something so, help those children and others like them, I am opening a secondary school (high school) in the camp. I have funded the construction of the school, the training of the teachers, and school supplies for a year.
I want to inspire others to act as well and, to get others involved, I challenged my old high school, Auburndale High, to be the sister school to the one I am building. They will do their own fund-raising and will to send over additional supplies. One day soon, they will be able to write letters back and forth and be able to bridge the gap between the children here and the children there.
It is my hope that others will join me in this effort because there are millions of displaced people and refugees that need to be educated. I know this is only a small step, but if we all make it together, we can really make a difference.
What can you do?
I encourage all of you to find out more and do what is in your power to help. There is a wealth of information at the Enough Project website that can explain the roots of the problems, what's happening now, as well as how you can get involved. For those of you looking to make a difference I suggest following the Enough Project's Activist Agenda. You can:
And call the White House at 1-800-GENOCIDE or e-mail at [email protected], and tell President Bush to sign an Executive Order in support of divestment.
To find out which Senators or members of congress you should contact, click here and enter your zip code and address to find your representatives contact info.
This is an issue that is very important and I thank you all for your participation.
- Tracy