Fri, Dec 9th 2011, 09:41
NBA Wife Spotlight: CleRenda McGrady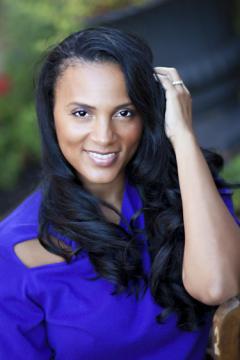 Intelligence and undeniable beauty are two attributes that are obvious to anyone that meets CleRenda McGrady. Converse with her briefly, and I'm sure you'll soon learn that this articulate woman with a gentle spirit is a devoted wife and mother of four. Dig a little deeper, and a strong woman of faith who has a heart to serve, shines through. As the recent guest speaker for the Women of Favor Marriage Conference in Houston, TX, CleRenda had a chance to share her wisdom and experience on the subject of maintaining a healthy marriage… after all, she's been married to 7-time NBA All-Star Tracy McGrady for six years. Find out why this accomplished life coach and owner of ReNew Christian Counseling organized a prayer conference call for hundreds of NBA and NFL wives. Also, learn what a typical day is like in the life of this North Carolina native and, what she's doing to pursue her passion, helping others through the power of Christ.
MirraMirror: CleRenda, where did you grow up?
CleRenda McGrady: Winston-Salem, NC
MM: What is your educational background?
CM:I have a Bachelor of Arts in Communication Disorders from North Carolina State University, a Master's in Education form North Carolina Central University, and I'm currently working on my PhD in Christian Counseling.