Thu, Jan 5th 2012, 11:46
McGrady still getting it done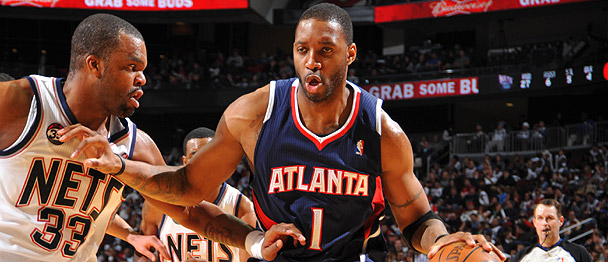 If Tracy McGrady is firing step-back jumpers and slicing inside for finger-rolls, then it must be 2004, right? Thought so, too.
Except he's almost eight years removed from his peak and now coming off the bench for his sixth different team. And while you may have wondered where he's been, he's wondering where you've been.
"People sometimes forget what you've done in this league," McGrady said with a laugh. "I haven't gone anywhere. And I'm only 32. People forget that, too. I'm younger than Kobe, younger than Ray Allen, younger than a lot of guys. I just haven't been healthy. I haven't felt like this in a while."
He laughs again, acknowledging his quickness isn't the same, and that he's been in the NBA almost half his life.
"Look, I know I've been around, but I can still play. I can help this team. I can make teammates better, I can make the team better."
The Hawks are sold. They signed T-Mac to a one-year deal, a bargain as it turns out, and asked him to supply some nostalgia whenever possible. Rick Sund, the GM, chose McGrady over giving an extension to Jamal Crawford, the Sixth Man of the Year winner in 2009.
It was the cheaper option for a team unwilling to flirt with luxury tax issues, but was it the better one? The answer, obviously, won't arrive until the postseason (assuming the Hawks make it) when we see if McGrady's health and production holds up.
He's a fixture in the Hawks' rotation right now. Actually, McGrady is on the floor in the fourth quarter, and he's not exactly there to set picks or be a decoy, either. Here in his 16th season, when surgeries figured to take their toll by now, McGrady is producing, averaging 10.0 ppg in 21.3 mpg and shooting 51.2 percent. He snuffed Miami a few nights ago with a 13-point fourth quarter, his biggest in almost four years.
So far, he's the best offseason pickup from a value standpoint, considering he signed for the veteran's minimum. Rip Hamilton is giving the Bulls a reliable mid-range shooter and 12.0 ppg after being waived by the Pistons. And Kurt Thomas, who was around in Bill Clinton's first term, is a hired muscle in Portland, where the Blazers also have a 37-year-old Marcus Camby yanking down almost 10 rebounds a night.
But McGrady is different in that he was a seven-time All-Star and two-time scoring champ who fell off the A-list suddenly. Only once in the last five seasons did he play at least 70 games (2006-07). Back pain, shoulder surgery and a repaired left knee all did him in by the time he turned 30.
Ahmet Selim kocaturk | 5 days, 12 hours ago
I don't mind what the people say something about T-mac. T-mac is the best basketball player I have ever watched and I'm sure that he is trying to be better. Playing in Atlanta is good choice for him. I hope that he will get the ring here!!! go T-mac go!!!
tisoy gordon | 6 days, 10 hours ago
just continue what is your doing right now men..were always here for you. i miss you so on the court. goodluck!
ivan A. Garcia Sanchez | 6 days, 11 hours ago
go t mac! you got millions of fans rooting for you, you can still score 20+ppg, be agressive, run the floor! ur in great shape show them what ur made of, u can win a championship this year no doubt you got to belive in yourself!
Xiao wei-Li | 6 days, 15 hours ago
I think you the team's head coach is really great,Although sometimes lost the game,But is wise,training young teammates,Some fans may not understand your coach,But I can understand,I believe your team will run in the future getting better,you are a team!
MARIANO | 6 days, 21 hours ago
LOVE YOU MEN, DONT STOP!
Andy | 6 days, 22 hours ago
Hi,T-mac:
It's said that you have some problem with your knee,hope it is not series,and it will not affect the following play.
You really did great so far.
B.rgds
Mohamed | 6 days, 22 hours ago
Wow T-Mac is great to have you back on the court like the old T-Mac. I was a fan since u played for the raptors and i will always be. Ur my role model so keeping doing what u do and T-Mac For MVP GO Atlanta Hawks u going to win ur first MVP and championship this year HOPEFULLY. Hopefully u make the all star team this year. :D